Hyperautomation is a business optimization with:
✅ Process mining
✅ Low-code/no-code tools
✅ Orchestration
✅ AI/ML
How the hyperautomation optimization works?
To define hyperautomation as a process first of all we need to compare it with automation.
Apart from the marketing approach (in which word creation is just a method of adding extra value to a product), we have faced a new technological era when we define the lack of terms in automation processes. To avoid misunderstanding hyperautomation as a term was created to underline the brand-new level of automation.  The key difference between automation and hyperautomation is compatibility and AI/ML technologies. 
Automation hasn't even been established by all companies and has already become outdated. Why should we create a specific script to automate repetitive processes which require control and personal involvement if we can create an environment with a high level of integration, compatibility, with self-development built on an easy to start platform? 
In comparison, automation is oriented on a process while hyperautomation is oriented on the development of these processes. 
The key components which provide a plot for quantity and quality analysis and gives a number of tools to use the results are:
✅ Process mining for automation assessment to clarify pros and cons 
✅ Low-code/no-code tools to improve usability and non-tech user's involvement 
✅ Orchestration of all processes by combining processes with a high lvl of compliance 
✅ AI/ML technologies for processes improvement
✅ Digitalization gives an ability to research data from the different sides 
✅ Hyman-like cognitive capability over time
✅ Improve challenges react speed
✅ Remediation of the process to avoid downtime while bureaucracy is in action.
The possible scenarios which can be solved by hyperautomation (Botprise technologies).
There is a global retail chain that already hosts 100+ applications and the number continues to grow in a geometric progression in a multi-growing environment. In such an environment manually performing a compliance check happens twice a year (in the best scenarios). The need for a framework to ensure compliance becomes obvious in this process.
 Hyperautomation can cope with this challenge for example botprise compliance Smartbots re-map this task to a specific Botprise workflow. This helped compliance and governance become an automated, repeatable and more reliable process by using a specifically designed PCI DSS and cloud security compliance bundles comprising over a hundred checkpoints. Moreover, Each assessment run performed against the cloud assets reported a pass or a fail and identified what policy changes need to be made in the environment to stay compliant at all times.
Why hyperautomation is a necessity for your company tomorrow?
ServiceNow CEO Bill McDermott projects that over $7.4 Trillion will be spent on the digital transformation of business operations by 2023;

Gartner believes that robotic process automation (RPA) will evolve to include the use of artificial intelligence and machine learning (AI/ML) to drive Hyperautomation in enterprises;

Enterprises are facing tremendous challenges in facing Covid19 challenges from disruption of business on the demand side to operational challenges of their workforce working from home accelerating the trends for digital transformation and automation.
Enterprises have been leveraging automation through robotic process automation to automate simpler and repetitive tasks. And they have been looking to use artificial intelligence and machine learning to drive intelligence in various functional areas. The trend has been to go deeper with the business process automation than what RPA provides with more complex workflows and use artificial intelligence and machine learning.
Hyperautomation enables this by combining the process flows and data between multiple applications with the decision-making capabilities of artificial intelligence and machine learning. Smart bots are making the simpler decisions that humans are delegating to the bots to drive enhanced customer experience.
Hyperautomation opportunities extend across enterprise functions from IT Operations to Sales and Marketing, Finance and HR. Enterprise architecture will rapidly evolve to include the smart bots' layer with hyperautomation capabilities to provide agility across multiple applications within the function and multiple functions.
Botprise smartbots currently focus on the IT Operations space with solving the IT helpdesk tickets from ITSM tools like ServiceNow with integrations into monitoring tools, cloud providers and collaboration tools like Slack to provide agility to the processes. Our customers are realizing over 50% savings in costs and 90%+ time savings through Hyperautomation.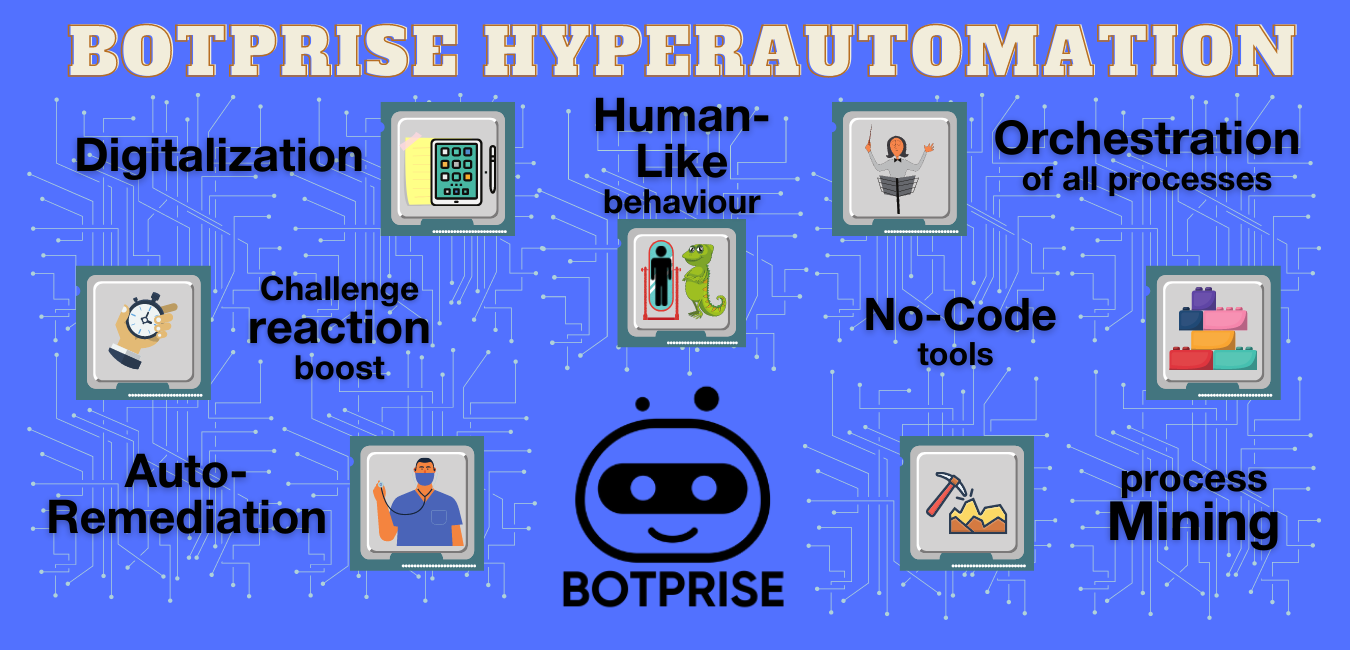 Hyperautomation is a framework that unites the new spheres, approaches and technologies which can be used for different areas of process operations and control of operations. The key idea of hyperautomation is a creation of optimization in processes and a combination of these processes with a high level of compatibility. 
Hyperautomation gives companies such benefits as:
Flexibility

Improved employee productivity 

Integration

Improved ROI

Increase the level of control 

More clear and complete data

Improved development and adoption.
Consider Our Company Your Trusted Partner
BOTPRISE is:
Completeness
 For ITOPS and related use cases, Botprise offers one of the most complete solutions through its out of the box and easily modifiable workflows. With a large set of automation objects (Bots), customers find Botprise a complete solution compared to competitive products and solutions.
  2. Approachability
Botprise platform was conceived to deliver value to the multiple actors/constituents in IT engineering and IT operations: practitioner, citizen developer and software engineer. For the practitioner, the quick onboarding process means that the meantime to benefit is days, not months by deploying the out of the box workflows. For the citizen developer, they utilize the outbox of workflows and a rich set of automation objects to modify or build new workflows with our drag-and-drop workflow visualizer. And, for the professional developer, they can extend automation objects by importing existing automation scripts or building new ones.
  3. Intelligence
One of the areas of initial and continued focus is deploying AI/ML intelligence in all aspects of product use. From deploying intelligence to speed integration/adoption of customized service management applications, to correctly automatically assigning actions from incidents and choosing the correct action to take based on historical data, the Botprise decision engine uses ML models to automate its efforts.
  4. Economic value
Automation is a journey that each customer approaches differently where the steps between the start and end are often biased and changed based on real-life experience and benefits garnered along its path. Given no two paths will be the same, we made a conscious effort to align our business success with our customers' automation success. In that regard, we have an easily understood subscription-based pricing model (by automation) with a reasonable entry cost that encourages adoption and grows exponentially as customer value is achieved.