Datadog and Botprise partnership
✅ Ticketing system improvements 
✅ New PCI compliance use cases
✅ High level of integration 
Sunnyvale, Calif. – November 19, 2020 –  Botprise®, the Hyperautomation Platform for IT Operations, today announced its integration with Datadog, the monitoring and analytics platform for developers, IT operations teams and business users in the cloud age.
PARTNERSHIP BETWEEN DATADOG AND BOTPRISE: SMARTBOTS FOR TICKETING SYSTEM SECURITY AND PCI COMPLIANCE
Datadog gives IT operations the insight to problem areas of your infrastructure quicker than anyone else can in the market today, then why not take this to the next level with actions to contain or remediate the impact of these problems. This is where Botprise, the HyperAutomation platform for IT operations comes in and adds value beyond the extensive visibility that DataDog is known to provide today.
When we think of a typical IT operations environment today, we think of people, processes and tools. With Botprise in play, information from Datadog is ingested, processes can be modelled with Botprise's workflow automation and actions of people running IT Operations can be automated, making Botprise and Datadog a very compelling combination.  What makes the combination even more interesting is the AI/ML capabilities of Botprise in enabling intelligent decision making at execution whether it is for common operational tasks, remediation actions, performance scrutiny, change implementation, reacting to anomalies.
With the Datadog – Botprise integration, a new landscape to deliver extended capabilities to IT operations is well underway.  Simply speaking, when alerts are presented in Datadog, Botprise allows teams to: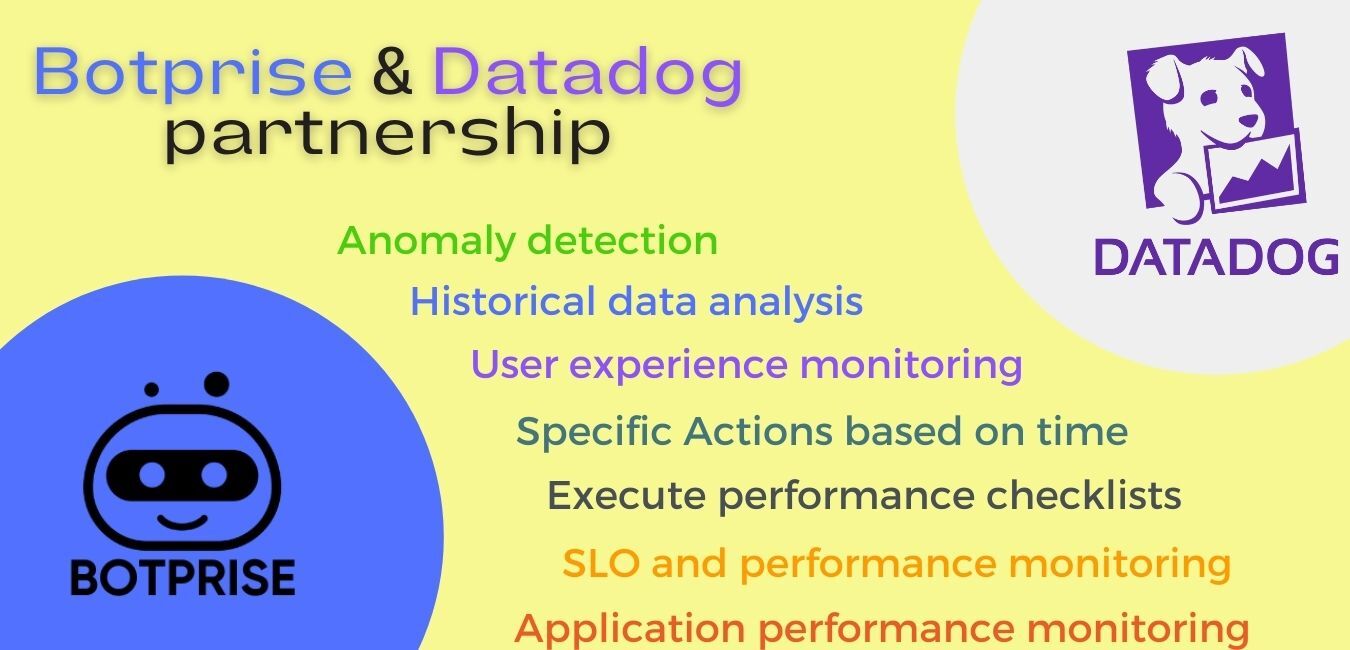 Take specific actions based on time of day – business and non-business hours
    Execute performance checklists which can be presented readily to an agent for quick decision making

    Use Botprise's canned automation units to write out action plans for specific alert types from DataDog using the zero-code workflow builder.

    Write your own automation units into new workflows or integrate them with existing workflows

    Route incidents to the right resolution groups and identify staff who fixed the same or similar issues in the past

    Get change management information from ITSM tools like ServiceNow and invoke scheduled downtimes on Datadog thereby improving operational efficiency

    Correlate data across other sources to investigate incidents faster and for post-incident forensics

  Use historical data of alerts from Datadog to associate with faults raised by users, identify the RC, use such patterns in the future and model remediation workflows, thereby reducing MTTR.
 Botprise can now complement Datadog's strengths such as:
    Application performance monitoring

    Anomaly detection

    SLO and performance monitoring

    User experience monitoring, 
with intent and intelligence-driven actions for quicker fault cause isolation, resolution and communication.
 "We look forward to partnering with Botprise to provide our customers with AI/ML capabilities and decision units to make well-informed operational decisions," said Diogo Tamura, Regional Director – LATAM at Datadog. "This new integration will enable intelligent decision making at execution."
Diogo Tamura, Regional Director – LATAM at Datadog – "Our customers are looking to Botprise for automating the rich analytics and operational intelligence that Datadog provides with modern monitoring and security. We are very excited to partner with Botprise and leverage their automation capabilities for our customers". 
 "Botprise is delighted to partner with Datadog for integrating our Hyperautomation capabilities to the data and analytics that Datadog provides. Our customers are very excited to leverage the best in class monitoring and automation capabilities with this partnership that speeds up their bots and AI/ML driven automation roadmap and strategies. They will be able to extend their monitoring capabilities with the smartbots to automate the rich set of monitoring and analytics data that Datadog provides." added Kishan Bulusu, Founder and CEO of Botprise.
WHAT PARTNERSHIP GIVES TO DATADOG AND BOTPRISE
Customers benefit immensely from the Botprise/Datadog partnership – they can combine the monitoring strengths of Datadog with the automation capabilities of Botprise and leapfrog the intelligent automation initiatives. Immense amounts of data generated can be automated seamlessly with Botprise automation and intelligence applied at the process/process step levels to drive value out of data and automation. Both platforms are modern platforms for IT Operations with capabilities to support cloud and on-premises workloads.
WHY BOTPRISE
Completeness
For ITOPS and related use cases, Botprise offers one of the most complete solutions through its out of the box and easily modifiable workflows. With a large set of automation objects (Bots), customers find Botprise a complete solution compared to competitive products and solutions.
2. Approachability
 Botprise platform was conceived to deliver value to the multiple actors/constituents in IT engineering and IT operations: practitioner, citizen developer and software engineer. For the practitioner, the quick onboarding process means that the meantime to benefit is days, not months by deploying the out of the box workflows. For the citizen developer, they utilize the outbox of workflows and a rich set of automation objects to modify or build new workflows with our drag-and-drop workflow visualizer. And, for the professional developer, they can extend automation objects by importing existing automation scripts or building new ones.
3. Intelligence
 One of the areas of initial and continued focus is deploying AI/ML intelligence in all aspects of product use. From deploying intelligence to speed integration/adoption of customized service management applications, to correctly automatically assigning actions from incidents and choosing the correct action to take based on historical data, the Botprise decision engine uses ML models to automate its efforts.
 4. Economic value
 Automation is a journey that each customer approaches differently where the steps between the start and end are often biased and changed based on real-life experience and benefits garnered along its path. Given no two paths will be the same, we made a conscious effort to align our business success with our customers' automation success. In that regard, we have an easily understood subscription-based pricing model (by automation) with a reasonable entry cost that encourages adoption and grows exponentially as customer value is achieved.