A large professionally managed legal firm with thousands of clients who's related documentation is maintained in digital format. Client communication is mostly done on emails and legal documentation is maintained digitized in a DMS. Emails therefore becomes a very important application for the firm and thereby potential threat to the firm if not managed properly.  
While the firm took steps in having the right set of staff and tools to take care of security related to their applications, the volume of emails that the firm was exposed to was not something their staff could attend to. Additionally, the non-IT staff in the firm wasn't very security aware which often led to security incidents like phishing attempts and ransomware attacks being successful. 
Education Technology Company
Automation Units, Integrations, Decision Units, Workflows
The customer has a large  cloud footprint and has assets in multiple regions with multiple cloud accounts. They are using cloud security tools like guard duty and securityhub for alerts and ITSM for event tracking with Teamwork for approvals.
The Botprise Solution, with its integration capabilities into the security tools, cloud assets for storage, user management, tracking and control, ticketing system and teamwork for collaboration was able to create a smartbot that would look at security alerts. Furthermore the alerts were automatically checked for required security controls and remediation flows automatically triggered off with collaboration over teamwork for approval steps. A high level workflow representing the modeled process is as shown below:
The EdTEch company now has a solution to automatically manage misconfigurations to maintain desired cloud security posture, deploy changes to the existing process or develop new processes on a single platform regardless of the tools that are required to be integrated.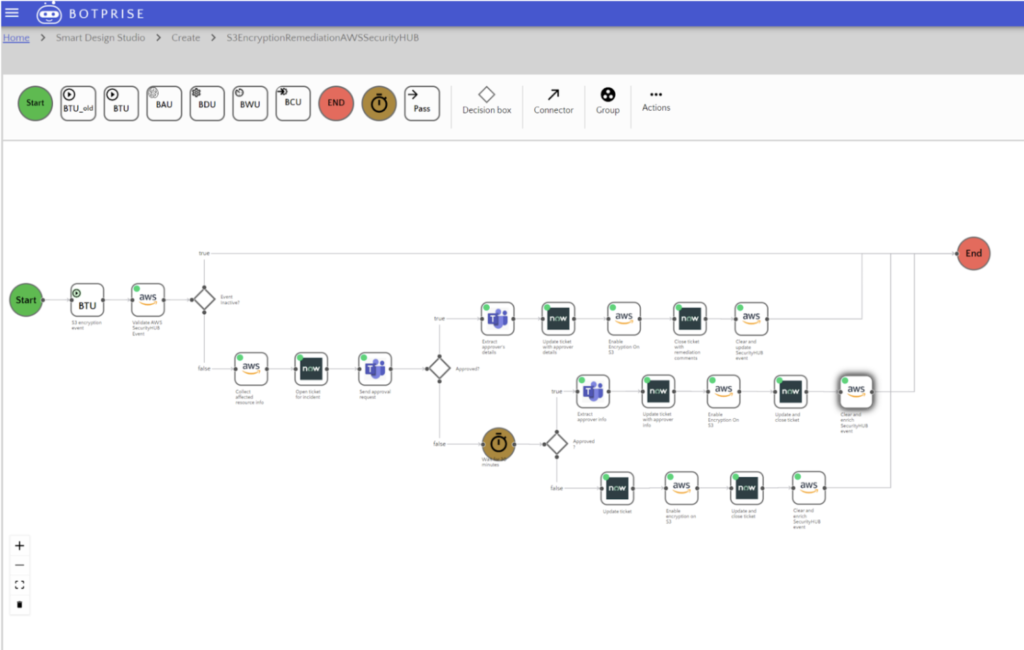 The firm is now able to deploy an event based, data-driven security solution for misconfigurations and perform automation that has helped it reduce its attack surface substantially. Furthermore, more automations have been deployed that address other security alert scenarios.
Botprise's Smartbots now spearhead various related processes as a digital agent that takes on security alerts and completes the tasks with improved and consistent responses regardless of the volume or frequency of these alerts. The IT staff are  now able to focus on business-impacting operational issues thereby improving the overall security of the firm and time to resolve. 
Optimization? Improvement? Automation?
Do you want to optimize your product or learn how you can comfortably manage your business? Write to us!