You can't miss: 5 benefits of using customer service chatbots with Artificial Intelligence
Customers, both internal and external, are increasingly relying on digital touchpoints to interact with the company's brand for their needs. And they are doing it round the clock. Companies should have a clear strategy to leverage their interactions with the customers to enrich their brand and provide the best possible customer experience consistent with their brand experience they intend to create.
Some of the key benefits of using chatbots with artificial intelligence armed with all the information to highly personalize the customer experience to enhance the brand experience include the following: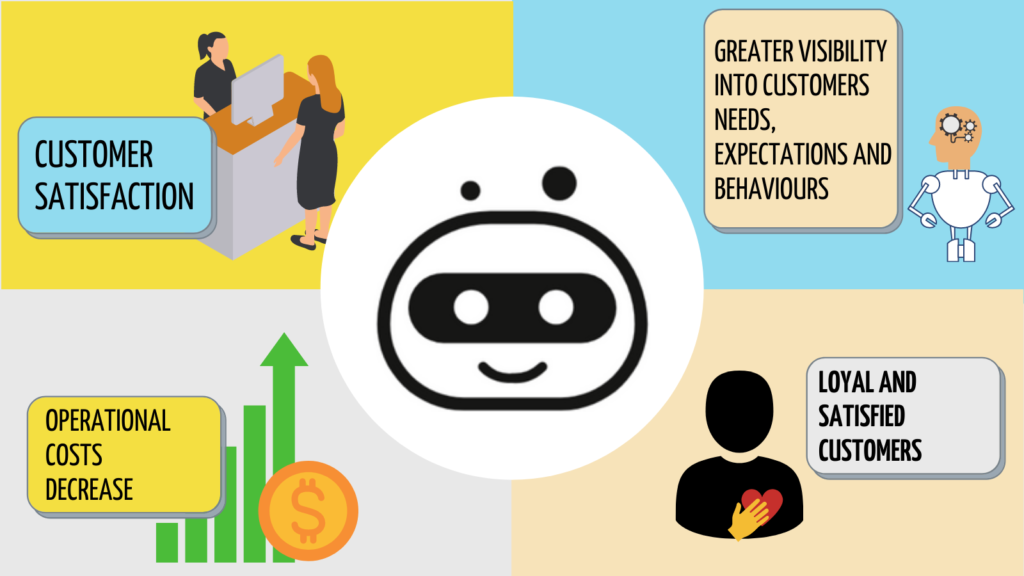 Decrease Operational Costs
   Providing the best customer experience to your customers in all channels that is brand consistent and personalized involves significant costs and leveraging the right artificial intelligence technologies to reduce the costs consistent with the customer experience is critical. As customer choices that the brand offers and the customer interaction channels multiply, the cost of having the contextual personalized data and process for each customer experience increases significantly unless the companies leverage the right mix of technologies to scale effectively.
More Productive Agents
   Agents need highly personalized data for various customer questions and scenarios to make them productive and meet/exceed customer expectations. Using the right agent for a customer to providing the data of customer preferences, prior questions, etc. in the context of the customer interaction becomes critical for the agent to be productive and successful.
Greater Visibility into Customers Needs, Expectations and Behaviours
   Younger customers like providing more data in the right channel about their needs and expectations from a brand. Capturing these interactions and understanding the customer helps the brand to more successfully position itself for meeting customer expectations.
More Satisfied Customers
   More than 80% of customers are shopping online and they want a chatbot to support. Enterprises need to scale their digital operations models to have chatops at all levels to meet the customer requirements from web pages to internal IT Operations to effectively support the customers and enhancing their brand experience.
More Loyal Customers
   Loyalty becomes more critical in the subscription world where companies need to continuously engage with the customer to keep the customer experience high and lead to renewals. Brands need to able to offer curated experiences based on their subscription tier, customer history or loyalty status. Keeping these experiences consistent through the customer chat bot experiences is critical and the only way to do it in the 24X7, omnichannel world is to leverage artificial intelligence to drive the customer engagement.
   About Botprise: We make it easy to build, deploy, and manage powerful intelligent automation to reduce your workload and create value for your business by turning data into actionable insights.
   ‌‌‌‌ ‌‌‌‌‌Our layers of abstraction in intelligence and workflow enables powerful hyperautomation with minimal training or coding. We have built an intelligent automation platform so any enterprise can use AI/ML and hyperautomation to make intelligent decisions.