MLOPS Observability and Automation
Enterprises are investing significantly in the adoption of artificial intelligence and machine learning (AI/ML) to improve customer experience and adapt a more intelligent approach to predictions and operations. Significant challenges remain in the tool-set needed to address the challenges that data science teams face in meeting the expectations of the business leaders.
Data science teams can pull together a prediction model in less than a day but it takes months to operationalize the model. The teams hack together brittle solutions to support the operational model deployment. But then the model and data drift problems start taking a significant chunk of their time. All these force the valuable data science teams to spend 90%+ of their time in operationalizing and fixing problems than on the high value problems of applying data science to solve customer problems!
Botprise Hyperautomation platform has simplified the process of creating and deploying the prediction models through Botprise Decision Units (BDU's). Once your models are deployed the Botprise bots monitor the performance of the models and provide a snapshot of the model drift and data drift. And this is the best part – you can build remediation flows for fixing the drift by kicking in automation flows to fix the problems. And these can be as simple or as complicated as you want with our advanced Smart Design Studio for bots without software engineering skills with a drag and drop model to get your predictions out into production and maintain them easily!
The world is not static, therefore the insights and patterns we've extracted from the data today, not necessarily, would be relevant tomorrow. There are several reasons why statistical distributions of data features may change with time:
Seasonality — cyclic changes in data that recur every calendar year
Consumer preferences — some popular goods are replaced by new models or services
Anomalies — unpredictable events of arbitrary nature
The list goes on
There are some powerful statistical tools such as Chi-Square test, Mann-Whitney U test, t-test, etc, which allows us to monitor data drifting and take action in a timely manner for keeping models in good health.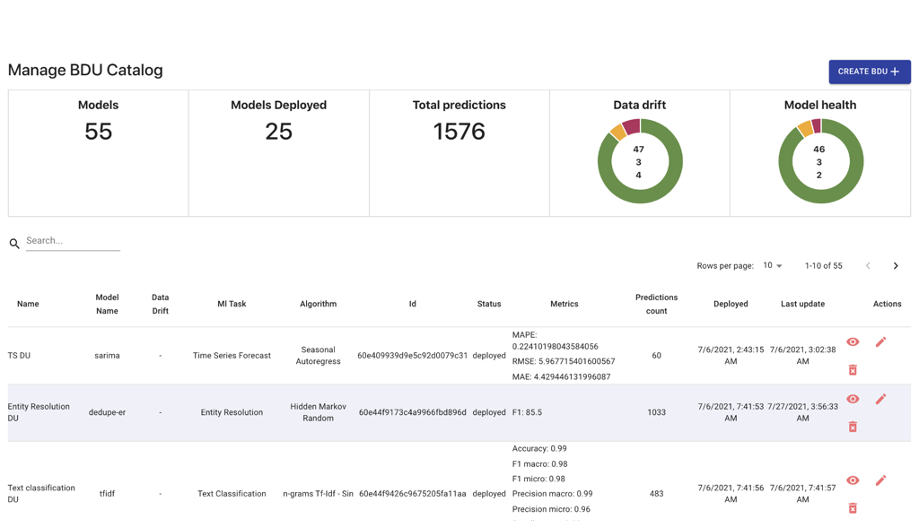 Here we give an example of automation capabilities of the platform.
1. When the ground truth data becomes available, re-evaluation workflow is triggered (ex. on upload event to S3)
2. BDU is evaluated on the new data
3. In the case of degradation of performance, BDU is retrained
4. If cross validation on new data yields worse performance, chatbot, which ask specified user in slack, is invoked. Chatbots are defined like workflows, involving BAUs, BDUs and special BotpriseChatUnits
5. Depending on the user's answer, BDU version is rolled back or not.

We are very excited to work with your data science initiatives and get in touch with us to explore!
Botprise – Your trusted partner
Botprise is one of the leading hyperautomation players in the market today. The Botprise core team has considerable expertise in the AI/ML and has years of experience. 
Intelligence
One of the areas of initial and continued focus is deploying AI/ML intelligence in all aspects of product use. From deploying intelligence to speed integration/adoption of customized service management applications, to correctly automatically assigning actions from incidents and choosing the correct action to take based on historical data, the Botprise decision engine uses ML models to automate its efforts.
88% of enterprises use AI/ML but only 4% have reached the minimal level of success.  
Botprise proposes a number of solutions to work with ML Ops. It will boost the already existing experience, make it easier to adopt new AI/ML solutions and bring a completely new level of scaling.
Completeness
 For ITOPS and related use cases, Botprise offers one of the most complete solutions through its out of the box and easily modifiable workflows. With a large set of automation objects (Bots), customers find Botprise a complete solution compared to competitive products and solutions. All models are Botprise Decision Units which can be used on Botprise S.M.A.R.T. Design Studio. 
Economic value
Automation is a journey that each customer approaches differently where the steps between the start and end are often biased and changed based on real-life experience and benefits garnered along its path. Given no two paths will be the same, we made a conscious effort to align our business success with our customers' automation success. In that regard, we have an easily understood subscription-based pricing model (by automation) with a reasonable entry cost that encourages adoption and grows exponentially as customer value is achieved.