✅ Automated ticketing systems for IT help desks
✅ Automating ITSM workflows
✅ Pushing out faster, more consistent updates
✅ Automating cloud processes
✅ Streamlining employee onboarding
✅ Improving your customer experience and satisfaction
Automation helps organizations to realize their goals of digital transformation, reduce repetitive manual steps, free up staff for knowledge work and leverage intelligence to improve customer experience. Here are five ways businesses are leveraging automation for IT service management.
IT service management (ITSM) has been a key enabler of transformation and modernization efforts for IT service management processes in the last decade, like the earlier ERP systems in consolidating enterprise data and processes. However, businesses are realizing that automation provides the real differentiation and agility to supercharge user-centric processes to improve customer and employee satisfaction to save money and improve productivity.
ITSM automation with intelligence is the key initiative for organizations to streamline processes to reduce the costs of technical and business services while improving organizational productivity by eliminating redundancies and mundane tasks, says Manish Gupta, Vice President of Global Enterprise Platforms at Unilever. Using intelligence and Bots to automate ITSM functions, organizations can dramatically improve the quality of service and customer experience through a paradigm shift from work distribution through workflows to work completion.
Five ways businesses are using ITSM intelligent automation to improve services, products and satisfaction across the organization.
Automated ticketing systems for IT help desks
One of the most commonly automated ITSM functions is incident ticketing. Automation tools help apply proper incident escalation and ticket categorization, and can even auto-resolve tickets through runbook automation bots.
"The combination of intelligent automation and ITSM significantly reduces the work in incident identification, troubleshooting, triage, resolution, root cause remediation and assignment while helping IT teams focus on complex problem resolution issues and planned change implementation," says Manish.
For example, Manish says, a monitoring tool triggers an alert identifying a slow running application that violated all the KPI thresholds triggering a ticket in the ITSM system. The intelligent ITSM automation tool can understand the application alert, assess the application's status, check the validity of the monitoring tools alert and either auto-resolve the issue or escalate the issue if the root cause is determined to be critical for the business. Even in the cases where the bots escalated the issue, they have already done most of the background checks to make it easier for a human to resolve the issue quickly.
Automating ITSM workflows
Implementing an ITSM tool provides streamlining work and the automations are some of the easiest and most redundant tasks. But it is an important milestone for the company to have well-defined workflow processes and is a good start to embark on the intelligent automation journey. Bill Philbin, ex CTO at HPE says, ITSM tools provide a starting point for automating ITIL processes and adding intelligence with integrations to have smart applications will supercharge organizations to a whole new level of automation opportunities.
ITSM Automation opportunities can be pegged into three categories – incoming, within and outbound. Incoming to ITSM could be the ticket creation and incident reporting which ITSM tools typically assign to humans. Leveraging bots and intelligent automation significantly reduces the need for human involvement for resolving simple issues and speeds up the resolution times. The bots can also determine the validity and the criticality of the incoming incidents to reduce the need for escalations or assignments by checking the source systems automatically.
Automation "within the tool itself" includes automatically assigning SLAs to proper categories or technicians, even going as far as to assign specific workflow tasks to the proper group or person.
Automation of outbound actions could be something as simple as creating a new user in AD to something like spinning up a new VM or attaching monitoring to a newly spinned up VM. Bots can effectively perform these actions with a clear audit trail in the ITSM systems taking automations to the next level.
Pushing out faster, more consistent updates
In another example, a large eCommerce company wanted to use intelligent automation to deploy more frequent updates to their eCommerce applications on their website. The company released updates every week but wanted to shift to releasing updates every day or even every few hours.
Using the ITIL framework, they were able to identify issues and defects in the company's agile environment that were preventing faster updates. They were also able to identify various tools, processes and tasks that would benefit from automation. Intelligent bots were able to perform various tasks from checking the code quality to performance with the toolset and integrate the finding into the ITSM tool to speed up the deployment process. Using the ITIL process and data-driven intelligence to integrate the ITSM tool, Development tools, Performance tools and deployment tools provided a significant difference with deployments now in the continuous development and continuous improvement mode.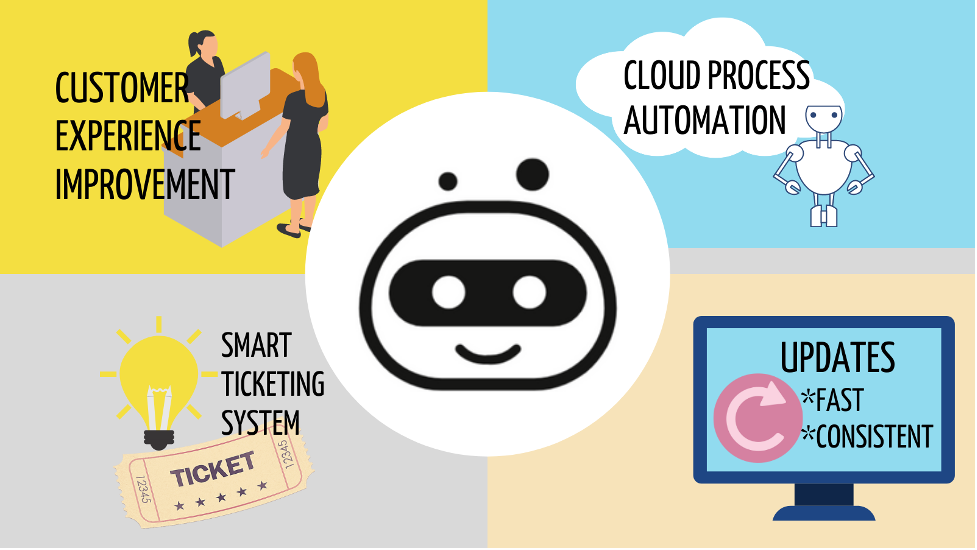 Automating cloud processes
At InterraIT, President Ranjan Guha says the company deals with a lot of customers who are working with the hybrid cloud using ServiceNow as one of their ITSM tools that the organization helps to implement. One of the initial automations that companies create is automating provisions through an end-user portal where customers, engineers, developers or any authorized  person can go and automatically provision resources within a private or public cloud.
"While we are executing this for our customers, we are also making sure that all standard ITSM processes: request, change management, etc. are being followed so that from a governance perspective the customer is managing the costs and risks associated with automatic provisioning. Intelligent bots help in checking the provisioning, managing costs, de-provisioning un-utilized resources, etc. and provide the next evolution of making the ITSM processes more efficient and cost-effective".
Streamlining employee onboarding
Keyvan Bohlooli, SVP, Chief Digital & Innovation Officer at Naturener, says companies take advantage of ITSM automation to onboard new hires but intelligent bots can go beyond onboarding automation to provide compliance to SOX, for instance, helping companies to stay compliant.
When a new employee joins, they need to access several internal systems specific to the organization or the employee's department. Instead of the employee or hiring manager reaching out to IT to request this access, the onboarding process and subsequent compliance can be automated so that the IT does not get bombarded with application access requests and the employee is onboarded more seamlessly with required compliance checks in place.
"As a result, we're continuously seeing a huge decrease in the number of requests that require hands-on assistance from staff, which means a huge number of man-hours saved both in terms of IT staff time, and the wait time of our requestors," she says.
Improving your customer experience and satisfaction
Although ITSM automation starts with IT, its biggest impact is on the business and customers, says Jay Chandran, Group CTO of Shop LC, VGL and TJC brands. Improving client and customer service is the end-game of ITSM automation and every department outside of IT will rely on automation on some level. 
"IT automation allows us to deliver a more personalized experience and to deliver faster. This is a very powerful combination — delivering exactly what the customer wants and in a much faster manner," says Jay, who adds that this is possible because such systems connect the front and back office.
Here, Jay provides the example of automating order fulfillment processes when customers place online orders, checks order status or changes orders. By automating these processes, customers get their products faster after placing an order, increasing customer satisfaction.
How Botprise can change your business
Botprise as one of the leading hyperautomation players in the market has great experience in S.M.A.R.T. solutions for enterprises. This was reached by a long  journey of gathering different ITSM use cases from all the possible spheres of business.
S.M.A.R.T. Intelligence
One of the areas of initial and continued focus is deploying AI/ML intelligence in all aspects of product use. From deploying intelligence to speed integration/adoption of customized service management applications, to correctly automatically assigning actions from incidents and choosing the correct action to take based on historical data, the Botprise decision engine uses ML models to automate its efforts.
S.M.A.R.T. Completeness
For ITOPS and related use cases, Botprise offers one of the most complete solutions through its out of the box and easily modifiable workflows. With a large set of automation objects (Bots), customers find Botprise a complete solution compared to competitive products and solutions. All models are Botprise Decision Units which can be used on Botprise S.M.A.R.T. Design Studio.
S.M.A.R.T. Scalability
Botprise Design Studio is a unique instrument that boosts both your existing processes and time for creating a new one. What makes the S.M.A.R.T. Design Studio so impressive is that such a complicated technology was elegantly put in a friendly Low-code interface. This opens a new horizon for your process development.
S.M.A.R.T.  Economic value
Automation is a journey that each customer approaches differently where the steps between the start and end are often biased and changed based on real-life experience and benefits garnered along its path. Given no two paths will be the same, we made a conscious effort to align our business success with our customers' automation success. In that regard, we have an easily understood subscription-based pricing model (by automation) with a reasonable entry cost that encourages adoption and grows exponentially as customer value is achieved.