The ITSM is an IT service management. ITSM is a set of policies to deliver, manage, design, implement, improve and support how businesses use IT for customer-oriented IT services success.
The uniqueness of this practice in focusing on IT customer services in alignment with business goals instead of hardware, network prioritizing.
As a concept ITSM is a process of improving the business value in IT usage.
ITSM includes:
✅ service management to change management lifecycle
✅ problem management
✅ incident management
✅ asset management
✅ knowledge management

Let's move to some examples:
Let's start from the very beginning – Botprise has two bots which are Create Application User and Delete Application User. They are responsible for user creation and deletion. The process of these IT tickets have the same logic so let's look at the Application User Creation The SMART Workflow closely. The Smart Workflow includes several steps: 
Get details from ServiceNow Ticket 

Creation of an application User

Assigning Roles 

Send Notification to User (email, push, etc)

Close ticket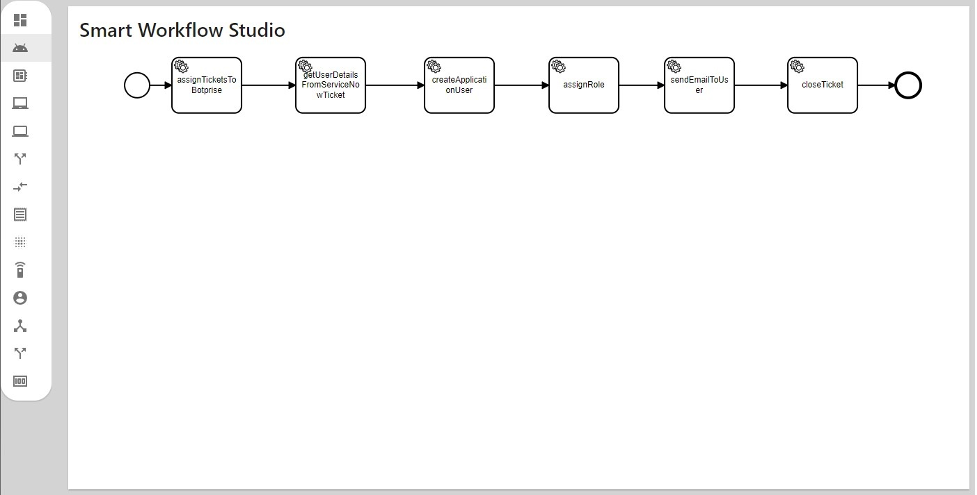 Autonomous and semi-autonomous ticketing systems
Commonly the incident ticketing is the most popular ITSM function. The idea of the ITSM ticketing system is to give bots, automation systems, RPA or hyperautomation platforms rights in the systematization of tickets to divide, categories or even process tasks, texts, email or whatsoever. Botprise Hyperautomation has autonomous and semi-autonomous modes for ticketing execution.
The  autonomous mode uses AI/ML models in decision making for ticketing systems based on root cause analysis, pre-trained data, special rules, protocols etc.
While Semi-autonomous ticket execution can be triggered only by a responsible person.
       

Prioritize tickets based on level of urgency

       

Categorize tickets based on department and request type

       

Designate tasks to team members based on the area of expertise

       

Alert teams of unexpected configuration changes

       

Secure your business from potential data breaches
Automated ticketing systems for IT help desks
One of the most commonly automated ITSM functions is incident ticketing. Automation tools help apply proper incident escalation and ticket categorization, and can even auto-resolve tickets through runbook automation scripts.
Automated ticketing improves the team's KPI, despite the fact that "easy tasks" are solved by bots, while tough one is resolved by employees. The total KPI improves because of several reasons such as:
       

Improvement in planning (there are no "emergency tasks").

       

KPI boost because employees can finish tasks one by one instead of jumping from one task to another.

       

Risk control improvement ("the bot works permanently, fewer risks of unexpecting errors, bugs, etc.").

       

Full-fledged insight and analytics control.

       

The work process becomes more systematic.
While the tasks become harder, we can see that single-tasking improves KPI, while multitasking can influence negatively in 68% of situations.
One of the best examples for IT Help Desks is Botprise Smart High CPU Usage Bot. SMART CPU Usage workflow contains 21 steps inside. It starts the process by checking if the alarm is valid. In case the alarm is valid it starts the root cause analysis with a  comparison of CPU Usage History. Another key part is the identification of the threshold, is it above or below the threshold. When the SMART bot finishes all its chains of actions it updates the IT ticket.
Faster change management processes
In nowadays changing world the swap of tactics in case of new challenges for strategy become a must. New systems and tactics sometimes could be extremely disruptive in this case, change management is required. ITSM is incredibly useful for reducing the total change request time and efficiency free drawdown.
       

IT risks optimization

       

Less severity of any impact

       

Ensure the change is delivered the first time and without the need for rollback and/or rework

       

Provide business stakeholders with appropriate and timely communication about the change
Automating cloud processes
Botprise automated cloud processes:
According to Botprise research, 80% of IT tickets require helpdesk teams investigation. These alerts can't be ignored or avoided for some more important issues. This influences helpdesk teams to check all the alerts instead of fixing the real problems. 
Botprise has created a solution for ITSM, our bots can complete all the steps to make sure the exact IT ticket is valid/invalid and to commit actions based on the investigation.
Smart resolution bots reduce the burden on the IT teams to go through the hoops for each of the tickets reducing the risk of ignoring the one ticket that can start a big disruption. The smart bots look at the tickets in ITSM tools like ServiceNow, classify them and trigger off the bot workflows that a typical L1/L2 engineer goes through. 60% of the tickets are resolved automatically and updated on the ticketing system to be used for future resolutions. 
Botprise SMART bots include:
Root cause analysis

Classification

Notification

Auto-Remediation

Alert noise reduction 

High level of compliance

Permanent checking system
What makes Botprise SMART Hyperautomation bot unique? The wide range of tasks they can cope with and the system is built on a no-code/low-code SMART Design Studio. The last statistics we've got from our customers is that they have over 50% savings in costs and 90%+ time savings through the Hyperautomation.
How Botprise can change your business
Botprise as one of the leading hyperautomation players in the market has great experience in S.M.A.R.T. solutions for enterprises. This was reached by a long  journey of gathering different ITSM use cases from all the possible spheres of business.
S.M.A.R.T. Intelligence
One of the areas of initial and continued focus is deploying AI/ML intelligence in all aspects of product use. From deploying intelligence to speed integration/adoption of customized service management applications, to correctly automatically assigning actions from incidents and choosing the correct action to take based on historical data, the Botprise decision engine uses ML models to automate its efforts.
S.M.A.R.T. Completeness
For ITOPS and related use cases, Botprise offers one of the most complete solutions through its out of the box and easily modifiable workflows. With a large set of automation objects (Bots), customers find Botprise a complete solution compared to competitive products and solutions. All models are Botprise Decision Units which can be used on Botprise S.M.A.R.T. Design Studio.
S.M.A.R.T. Scalability
Botprise Design Studio is a unique instrument that boosts both your existing processes and time for creating a new one. What makes the S.M.A.R.T. Design Studio so impressive is that such a complicated technology was elegantly put in a friendly Low-code interface. This opens a new horizon for your process development.
S.M.A.R.T.  Economic value
Automation is a journey that each customer approaches differently where the steps between the start and end are often biased and changed based on real-life experience and benefits garnered along its path. Given no two paths will be the same, we made a conscious effort to align our business success with our customers' automation success. In that regard, we have an easily understood subscription-based pricing model (by automation) with a reasonable entry cost that encourages adoption and grows exponentially as customer value is achieved.